Society
In the days before tabloid exposes, kiss & tell fodder and stories of affairs, crimes and indiscretions were strictly kept in the circles from which they originated. The lives of the royalty and upper classes were not open to comment or criticism. The story of the young baroness Maria Vetsera and heir apparent to the Empire, Archduke Rudolf of Hapsburg, however has all the ingredients of a modern scandal. Their affair would become known as the 'tragedy of Mayerling', because of their mysterious deaths at a hunting lodge (Jan. 30, 1889). The tale is the poor, touching story of one of those misunderstandings which, on account of some banal but ruinous hitch, send life off the rails and hurls it into the melodrama of destruction.
At the time of her death Maria was not yet 18. She had fallen for the Archduke from afar the previous summer. The Archduke was just over 30 and known for generosity, bragging and suspicious irascibility of which the victim was usually his wife. Baroness Helena (Maria's mother) wrote in her biographical essay Mayerling, what started as a youthful besottedness became love in a short time, reciprocated by Rudolf, swearing he would never love another.
The autopsy of Maria indicates a pistol shot to the temple. Mayerling - a pamphlet printed in 1891 was confiscated by Austrian police. Although slipshod in its prose, it is an eager attempt to free her daughter from the charge of being actively responsible for the tragedy. Helena also goes at length to deny she knew about the illicit affair or even that she actively encouraged it. The book grows more tense when it tells of the squalor of the death and its concealment, intended to avoid scandal. Maria's body was left for 38 hours untouched, it was then loaded under cover into a carriage, the corpse was hastily buried in a rough coffin in an unmarked grave for many months. it was moved and marked at a later date. The Archduke was given full state honours.
Whether or not the love between them was real in this case is irrelevant. That Maria's sister was told to never discuss the incident and that her mother died seeing no vindication for her daughter is the heart of the story for me. At a time of change and upheaval in Europe resulting in WWI, from this very region, this tragic love story became the subject of chatter. Where 'ordinary' people were expected to stay in line and concern themselves with only their business - this was something which had all the ingredients of an inflammatory murder mystery. It had the potential to make people think and question the infallibility and rights of their monarchy and government to dictate how they should behave and live their lives. A lack of confidence could lead to doubt and change. This could not be aloud to happen. The cover up had to be put in place to secure the foundations of order. The similarities with todays exposes of royals, lords, government MPs and captains of industry are striking. Society at that level will constantly strive to paint a picture with smoke and mirrors - lest we wake up and realise they are as we.
Artist's note:
Period framing befitting people of their position in society.
These four portraits show two living and two dead. The living have frames in rich, warming gold – the dead framed in lifeless and cold pewter. Added to this – the dead are painted in black and white –a dreamlike memory. They both contain a dead bird – rich in colour – this symbolises the fragility, beauty and richness of love even in death. Something so real and full of life, now still.
The writing in Society No 1 is the last meal consumed by Franz Ferdinand the night before he was assassinated. Related to Rudolf – this event sparked off the start of WWI.
The other quotes are from period writing at the time, telling tales of scandal and promiscuity (Madame Bovary).
The flower in Society No 3 again represents all that is beautiful in nature and youth. Maria's sister never married after the murder, living life alone as a single tragic bloom destined to wither and die in unchanging waters.
The painted flying birds of paradise in the background of Society No 4 are in contrast to the death of real birds in No 1 & No 2. A constant reminder
Society No 3, sold
95cm x 65cm, acrylic on wood, framed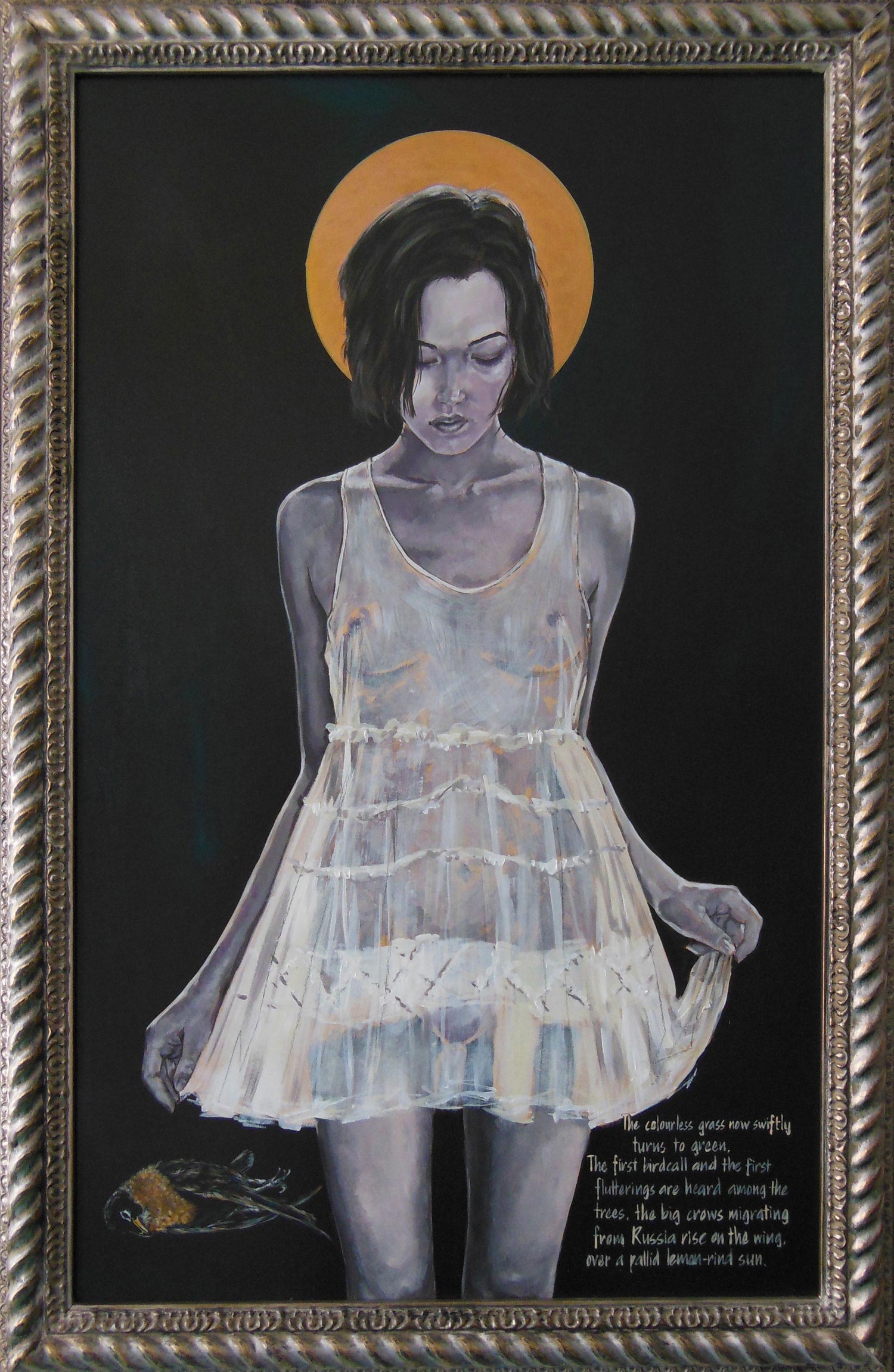 Society 2, sold
95cm x 65cm, acrylic on wood, framed
Society No 1, sold
95cm x 65cm, acrylic on wood, framed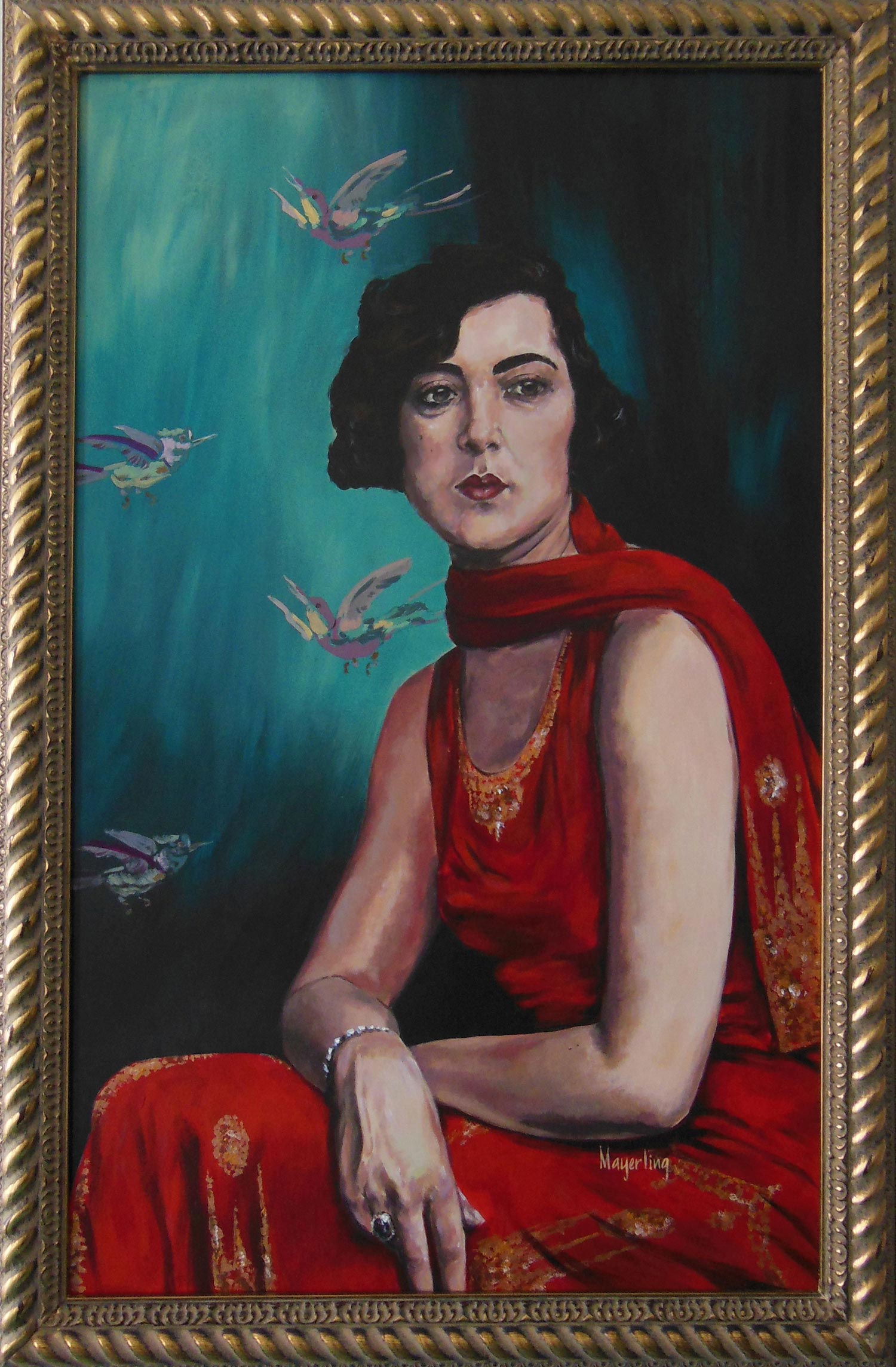 Society No 4, sold
95cm x 65cm, acrylic on wood, framed
Drawing 2, sold
35cm x 28cm, aquarelle pencil & ink on paper, framed
Drawing 3, sold
35cm x 28cm, aquarelle pencil & ink on paper, framed
Drawing 4, sold
35cm x 28cm, aquarelle pencil & ink on paper, framed
Drawing 6, sold
35cm x 28cm, aquarelle pencil & ink on paper, framed
Drawing 1, sold
35cm x 28cm, aquarelle pencil & ink on paper, framed
Drawing 5, sold
35cm x 28cm, aquarelle pencil & ink on paper, framed